If you are wondering how to use a wooden room divider? Rest assured. There are several ways to use a wooden room divider by combining multiple panels or shifting from one room to another.
Sometimes we don't need vast space but want to use better the space we have. A room divider is an affordable & easy way to turn a homeroom into an office or turn an apartment room into a bedroom plus a living room. Room divider nowadays is the best solution to privatize our apartment's large space into further segments.
There's a large chunk of areas remaining unused in the house due to improper planning or incompetent utilization in the present day. Wooden room divider furniture can help you utilize each & every corner of the room efficiently & resourcefully.
We have some excellent room divider ideas for the living room, bedroom and those are cheap room dividing ideas called wooden room dividers. After reading this article, you will learn how to use a wooden room divider efficiently in different house places. Let's find out more below!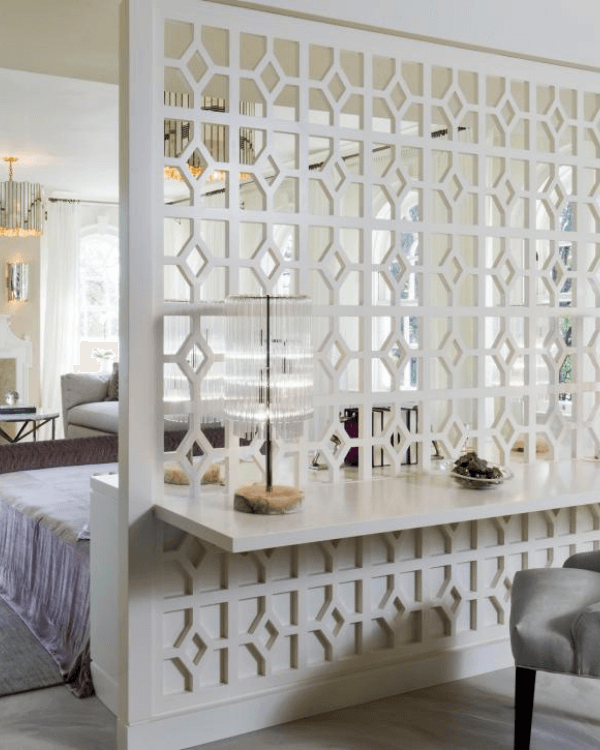 ---
Related post for room furniture: Best console table for an apartment
---
Usage of Wooden Room Divider
The partition is mostly used in Bedrooms & living rooms. There are some exceptions too, like usage in fireplace covers, brick walls replacement, etc.
In the living room
If your living room has a vast space & you want to save space while making the space a little stylish, a wooden room separator is just perfect for you. It would be a great addition to home décor. A wooden room separator can be placed between the dining & sitting areas. It gives a cozy & trendy look to the living room. Partition Screen is a great affordable living room divider furniture to redecorate your living space.
In The Bedroom
In the bedroom, wooden room separators are a good alternative for changing rooms & privacy screens too. Privacy screen enhances the look of the bedroom. Moreover, wooden panels or M.D.F. panels can also be replaced as a headboard or wall panel.
As Fireplace Cover
Fireplaces are a great addition to our house in the winter season or cold nights. We sit beside the fireplace and get the heat from the flames. A wooden room separator can be useful in the summer season because we don't use the fireplace then. We can hide the fireplace in the summer season using a wooden room divider. Decorating becomes easy because of the wooden room divider to cover up the fireplace.
Brick Walls Replacement
A wooden room divider can be a perfect replacement for brick walls without any hassle. For example – to create privacy between siblings or roommates, a wooden room divider can be an effective solution. In-studio apartments, wooden room dividers work as an easy on the budget divider in case of need for division of space or privacy.
The wooden room separators are available in different sizes & can be redesigned based on the area that needed to be placed. In Restaurants, Cafes, Large Hotels, and Art Galleries, there is an increased demand for wooden room dividers nowadays. The main reason is its mobility. It can be easily moveable & extended when required. For matching with the interiors, the wooden room divider can be polished. Also, there are options for selecting pre-assembled units from the store.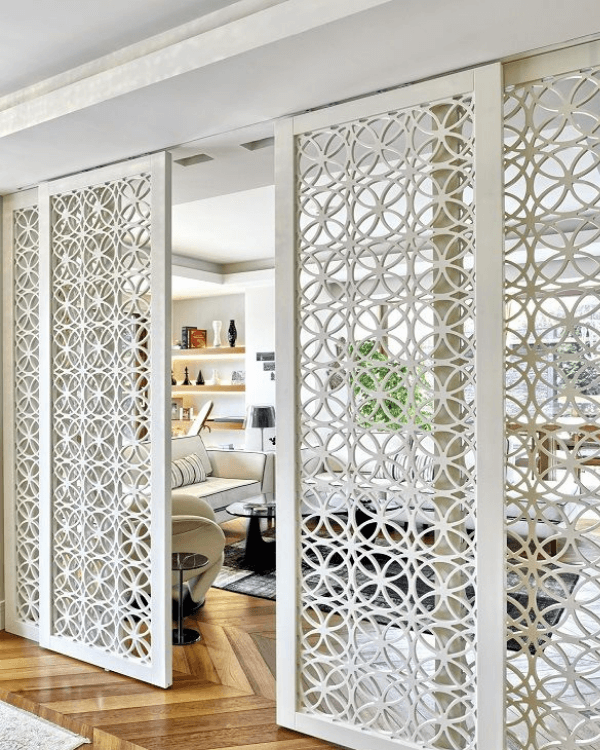 ---
Related post for bedroom furniture: Best storage chests for bedroom
---
Types of wooden floor divider
Usually, there are three types of woods used in making flood separators. Such as Mango wood, Sheesham (Indian rosewood or sissoo), and Teak wood (Sagan or Sagwan or Sevan). Different sizes are available for these room separators. Another type is Medium Density Fiberboard (M.D.F.).
Sheesham Wood
Sheesham wood is widely used for hand carving wooden floor separators & this wood is widely known for making furniture too. This wood has high rigidity, which makes it more suitable for engravings than other woods. Another name of this wood is Indian Rosewood because of its strength & durability.
Teak Wood
Teak wood's personality is it lasts long, requires little care & ages beautifully. It's suitable for indoor & outdoor wooden floor separators. Usually, premium teak wood is used for hand-done designs for wooden floor separators & tung oil is also used in several cases. There are several teak wood categories, among them European Quality teak wood is the best for making wooden floor separators.
Mango Wood
Mango wood is mostly available in India & it's cheaper than rosewood. This wood has a unique shade, which is suitable for making vintage-style wooden floor separators. Mango wood is lighter than other hardwoods & it lasts long. A wooden floor separator made from mango wood is more delicate to move around & durable too.
Medium Density Fiberboard (M.D.F.)
M.D.F. is a material that is of higher quality than ply-boards, and it's cheaper than mango wood. It's lighter, more affordable & resistant to termites. As a result, designers & architects use it for making wooden flood separators. And it's blend-able with other materials to increase durability.
---
Related post for bedroom furniture: Best end table for bedroom
---
F.A.Q
How do I best divide a room?
Start by deciding what part of space you want to separate in the room. Then choose a physical separator for your style & budget. A traditional Ikea room divider seems like the most comfortable & affordable option.
What's the size of the ideal room divider?
It depends on the floor measurement of your room. These separators of the room are available in three to six panels. Choose between these panels to cover up your space.
How do you hang curtains as a room divider?
One way to install curtains as a room separator is by using a high-tension wire that can support lightweight, movable fabric. Aircraft cable has a plastic coating which will allow the curtain panels to slide back and forth with ease.
How do you visually divide a room?
Use area rugs and flooring materials to divide your space from others. A carpet runner can show where you generally walk through a room, like an entrance or exit point. It also prevents the rug from getting dirty in these places when it rains outside! Painting one wall with different colors is another way of defining spaces within a room as well – for example, painting part of the dining area blue will make that section feel more intimate than if there was no color at all on any walls inside this particular corner.
How do you separate a small room for a sibling?
The vertical line dividing the room is a great starting point for decorating your space. The idea of painting each side different colors might sound like too much work, but it will really give life to any dull wall! Once you've drawn on that first pencil mark and put up those two shelves, divide the area with curtains or plants so there's still depth on both sides.
---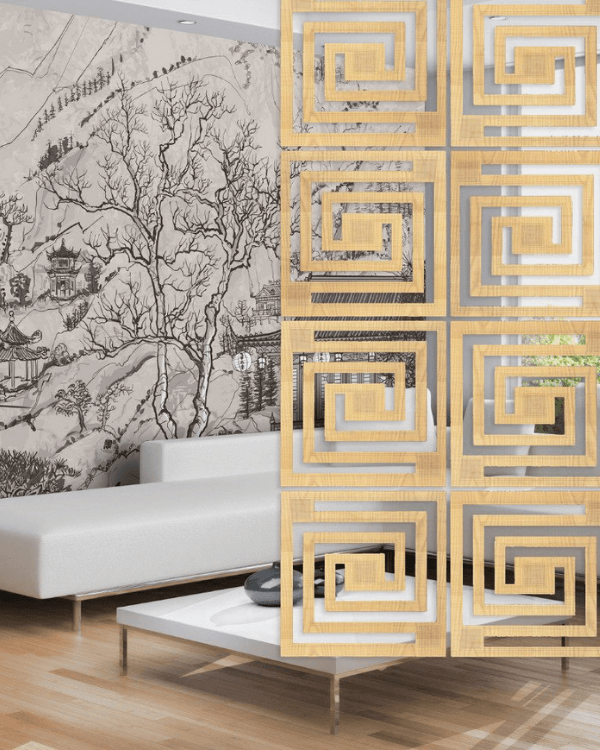 Conclusions
We hope you learned about how to use a wooden room divider in this article. These separators can be useful almost everywhere & have several uses. Your imagination will help you place a wooden floor separator entirely in your room. The choice is yours to use this to blend it with some other furniture to make some new thing or use it as a divider screen. The most important thing in this matter is choosing carefully to match with the room decoration & look up whether it would work efficiently in the room or not.